Friday Night Racing Did Not Disappoint!!!!!
May 21, 2021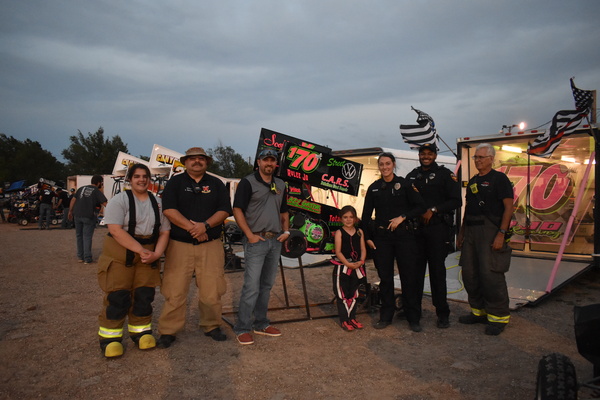 Friday night was Hero Night at Silver Dollar Speedway in Amarillo Texas as we honored all Police, Fire, EMT, Towing, and all First Responders. The parking lot was full as there was fire trucks and cop cars for the kids to look at as well as a surprise visit from Sparky the firedog.

RJo was excited to be back at the track after being off for about three weeks. She started right where she left off the last time at the track tho.

In the first heat she would start on the pole and at the drop of the green was gone as she would lead every lap bringing home the heat race win.

Dad wasn't happy with the karts performance though so the crew went to work changing some gears before the second heat. Rylee ended up starting outside pole because of some cars not being able to make the heat. As the green flag dropped she was off like a rocket as she jumped to another big lead. Leading every lap and bringing home another heat race win.

Although she won both heat races the crew adjusted on the car to try and find just a little more speed before the main.

In the main since she won both heat races RJo started on the pole. The green flag waved and she took off jumping to a big lead again. But the kart was off just a little and second place was able to catch her. The battled side by side for a couple laps and she fell back to second. She didn't give up tho and battled back regaining the lead on the high side as the again battled side by side for several laps. Rylee would end up coming home second in the main.

We are so proud of how she drove and continues to get better and better. Thanks to all of our wonderful sponsors and fans for all the support. We are off this weekend for Memorial Day but will be back in action on June 4th for the Noodle Bowl presented by Taste of Thai. There will also be a 50/50 drawing that night to raise money for Olivia Crow and precious little girl who was just diagnosed with Leukemia.

We hope everyone has a safe holiday weekend and see y'all back at the track on June 4th.