Break Out The Broom RJo Sweeps Final Night of 2021 Season
Sep 11, 2021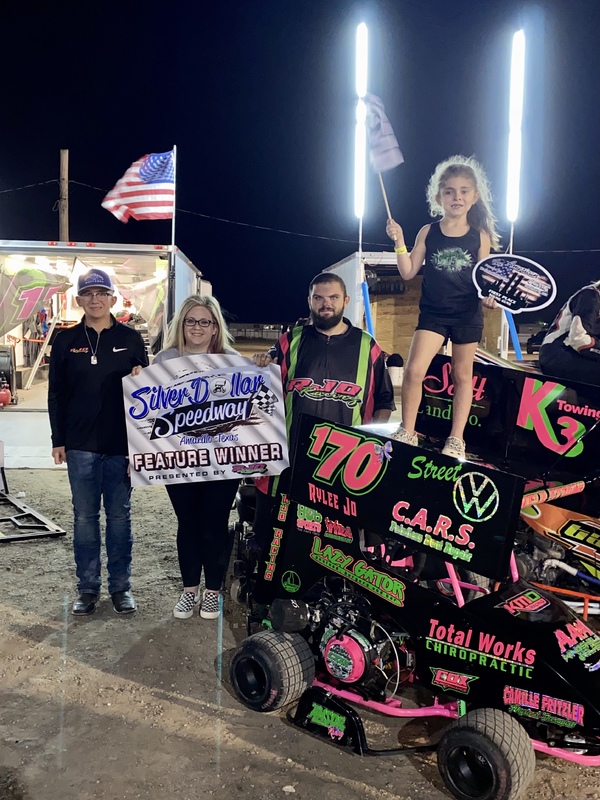 Race Report 9-11-2021

Well this is our final race report for the 2021 season and it's a good one. Dad told Rylee this week is no points and no money let's go out and have a blast and whatever happens happens. Rylee then responded with "I'm gonna have fun but they are going to eat my dirt." RJo let her Uncle Shawn draw for her this week he ended up drawing a 65 which put us starting the first heat from the outside pole.

At the drop of the green RJo took off and lead every lap of the heat coming away with another heat race win. She had a great battle with second place finisher Berkley Reese.

Heat two with dad not feeling the greatest we left the kart alone and made no changes. RJo started last row inside and battled with Kam Parsley most of the race before getting by him coming away with her second heat race win of the evening.

With her two heat race wins that put RJo starting on the pole for the main. Rylee jumped out to the early lead and led until the white flag lap when Berkley and RJo got together and both spun battling for the lead. That gave the lead to Kam for a green white checkered finish. After taking the white flag again going into turn one and two Berkley and Kam got together and Rylee inherited the lead again for another green white checkered finish. She would come away with a win by a bumper at the line.

That was RJo's 7th win for the year and her 4th in a row to end the year. We want to thank all the fans who came out last night as y'all do each and every week.

Thanks to Shawn, Hank and Braden for the pit help last night. Special thanks to our family for the continued support and the owners of Silver Dollar Speedway for a great place to race each and every week.

Last but not least as always a huge thank you to all of our sponsors. Y'all mean the world to us and we could not do this without y'all's help and support.

If you need anything y'all please go patronize these amazing people and let them know you appreciate their support of RJo Racing.