RJo Goes Back To Back
Jul 22, 2022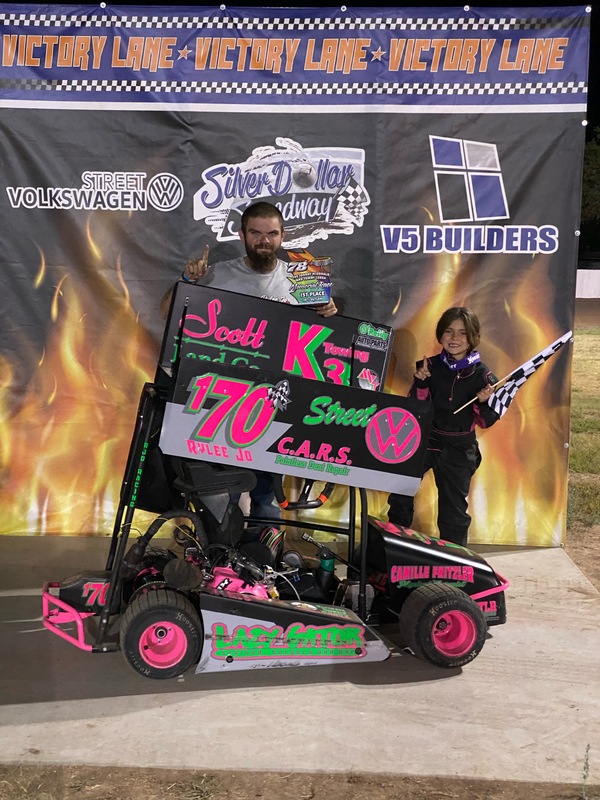 RJo was glad to be back at the track after being off last week and was looking to go back to back for the first time this season. At the start of the year she had set several goals one being to win the Tommy Corea/Johnny Johnny McDonald Memorial Race. She has come up one place short of winning it the past two seasons and was determined to get it done this year.

In heat one she would start outside pole going into turn four on the first lap she went in a little high got in the marbles and spun out. After the restart coming out of turn four she would get tangled up with another driver and spin again. She kept battling right down to the finish in a true wreckers or checkers fashion with Berkley Reese #16. Rylee got the bad end of the situation after contact right before the flag stand taking the checkers and would end up finishing an exciting heat one in 3rd place.

Heat two she started outside pole again and this race didn't have as much excitement and heat one but was still a great battle. Rylee gave Matthew everything he could handle and would come home P2. Congrats Matthew on the heat win well deserved.

For the main RJo had some work today as she would start last. Dad made some changes because we were missing the best crew chief in the business Braden White. Rylee would quickly make her was to second place after the green dropped and have a great race between her and Matthew but with a few laps to go she finally got underneath him and last him coming away woth back to back a main wins and 3 mains on the season.

Thank you to everyone who continues to support RJo in all she does on and off the track. Please do not forget about our current peanut butter drive going on. Drop your 16oz jars of peanut butter at the brand new O'reilly Auto Parts at 3700 Soncy to be entered for a $50 gift certificate and next Saturday is the 2nd Annual RJo Racing "806" Backpack Giveaway located at 2795 sw 45th from 10-2.

And if any of our great sponsors can do anything for y'all please pay them a visit or just stop by and thank them for supporting RJo Racing and all of racing in the 806.