3X Silver Dollar Shootout Champion!!
Aug 27, 2022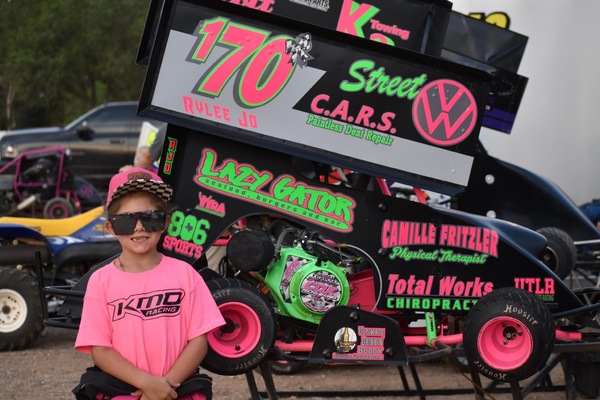 First off we at RJo Racing want to thank everyone who helped make this event possible, The McNabb's, Reese's, Ken Simmons for the awesome track prep, and all the sponsors who helped make the purse for this race amazing.

This year we ran two classes again Jr1 Outlaw and Jr2 Outlaw and we had so much fun.

Friday night for the Dash for Cash we ran one heat and the main in both classes. Jr 1 Outlaw we started second row inside fell back a spot or two at the start but then RJo put on a show driver her kart to the lead on the high side and winning the heat race. In the main she would start on the pole and lead flag to flag coming away with her 4 Amain win of the season.

Jr2 was a different story these guys are fast and not really knowing for sure what gear setup to run we weren't sure how things were gonna go. Started outside from row for the heat and fell back and finished 5. Started the main fourth row inside after some gear changes and ended the night 9th. RJo did great in this class.

Now on the Saturday night for the Silver Dollar Shootout. In Jr 1 Outlaw Rylee would start outside front row of heat one and lead flag to flag. Heat two she started third row inside and after the first caution and those cars getting out back in front of her she would send it into turn one and two almost 4 wide and got in the marbles and spun out. Started at the back and again put on a show even making a pass on the outside going three wide into turn three. She got up to 2nd and was reeling in the leader just ran out of laps so she would end up 2nd. For the main she started pole and lead every lap winning her 3rd Silver Dollar Shootout and her 5th amain of the season.

Jr2 Outlaw was short lived Saturday started second row inside of heat one and fell back to 5th. Decided after that and the kart not running how we wanted that it was best to call it a night and not be in the way and tear up anyone else's or our own equipment.

Thanks again to all our fans, sponsors, family and friends for the support all year long. We have one more race scheduled here in Amarillo on September 17th.