RJo Clinches Track Championship at Slaton Speedway
Sep 02, 2023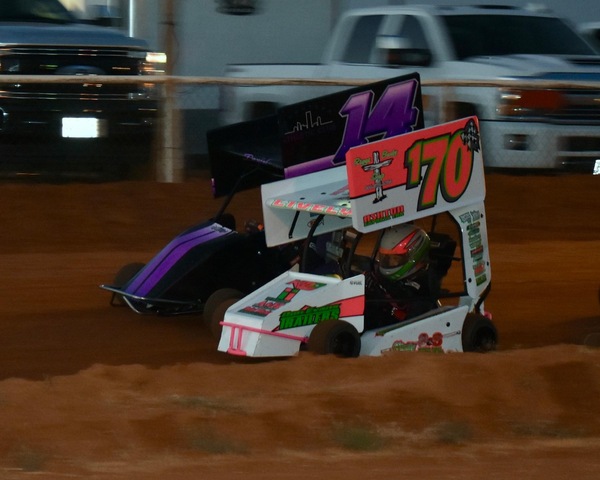 Went down to Slaton Speedway for another night of racing. Night started on a high note but that quickly went away. we decided to run both Jr2 and Jr3.

Heat one of Jr2 started on the pole and got a great start lead every lap but going into three on the last lap coming to the checkers RJo got taken out. They through a caution and she managed to end up p2 for heat one. That would be the high point of the night as that wreck would cause a bent axle and some body damage.

Heat one of Jr3 started second and RJo just wasn't quite comfortable and would finish p3.

Heat two of Jr2 Rylee would start last and work her way to third but kart just wasn't good with bent axle and would finish p4.

Heat two of J3 was much like heat one would start second again and was a little better but still came home p3.

In the main for Jr2 she would start third and run there the whole race. About middle of the race coming out of turn 4 her kart would just snap around spinning around the caution would come out and she would hold on the finish the night p3. That would be good enough to secure her 3rd career Track Championship and her 1st Championship at Slaton Speedway. We cannot thank Kevin and the whole Slaton crew enough for everything this season RJo had a blast Racing down there.

For Jr3 main we decided not to run with how the kart was so she was credit with a 3rd place finish.

Thanks to everyone who came out and watched in Slaton last night Kelley, Shawn, Danielle, BoBo, GiGi, Duane, and Tanner. Thanks to my mom for always taking pictures and cheering me on and thank you Summer.

Last but not least a big thank you to all my sponsors and fans. We have one more night of racing in Slaton on September 30th hopefully we can get the kart fixed and ready to go.